Army Men Strike - Military Strategy Simulator
3.22.2
Lead Your Troops into Battle
The app starts by showing children playing with soldiers. One suddenly shrinks and becomes part of the army. Once that has happened, we are introduced to the characters that are the main ones – certainly at the beginning of the action. It becomes clear from the start that you are going to be a commander when playing Army Men Strike - Military Strategy Simulator.
You can download and play for free but if you want a little extra help with this military strategy game, there is the option to buy. You can disable this choice when you start to play so there will not be the temptation. You must also confirm that you are more than 17 years of age.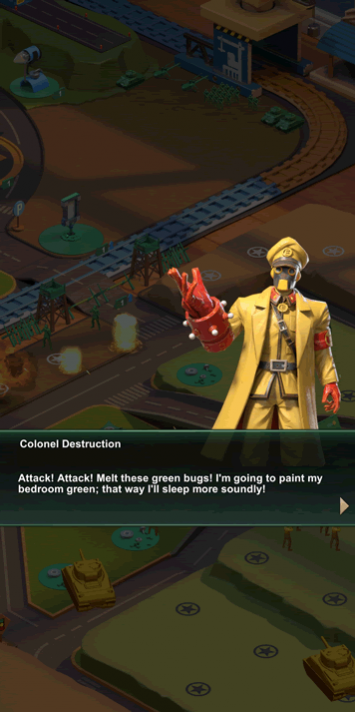 There is a lot of information to take in at the beginning with characters making comments about what is about to happen. The outcome is that you are all getting ready for war and need to train to fight against the yellow army. In case there is any doubt, you are part of the green army and are about to be invaded.
This army simulation game works very well on mobiles and you need to mix simulation war with real time strategy. It works the same way as all war games do, even the ones from childhood. There is the need to defend yourselves and your land while moving forward in attack.
Stratagy is a big part of the game and you will be in control of some powerful weapons. No longer do you have to bring the army forward soldier by soldier. Just press a button and watch the weapons hit their target with ease. In order to win you must first survive and follow any advice and information given.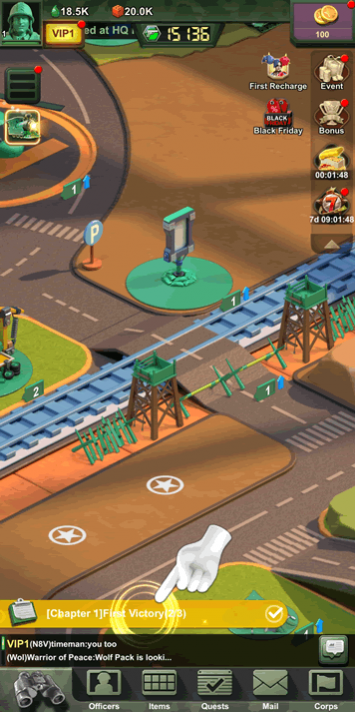 Each action that you take through the military strategy game, and each victory that you have will allow you to gain items that will make the next stage a little easier. There are in app purchases possible with Army Men Strike - Military Strategy Simulator, but you can get by with building up your resources just by playing. You can add soldiers that will increase your army and built defences to keep your enemy out.
Being able to target the enemy means that the game is going to be more enjoyable. Training your soldiers will bring a sense of achievement when all of the hard work pays off. Once on the battlefield, you can set up a headquarters, access your treasury and use magnets to get yourself metal. You need to get the best warriors and work to provide them with the best weapons and protection. You will get rifles, machine guns and tanks. Once you have done this, it will be time to fight in the military strategy game.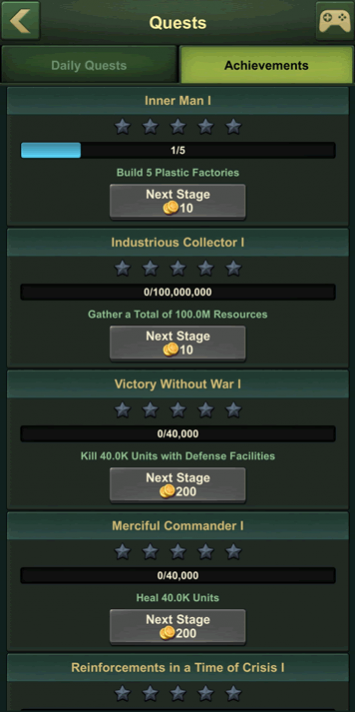 As more than 500,000 have downloaded the app, you can be sure that there is something about it that makes so many want to play.
There are ways to work out what your next steps should be. You can also learn what you need to do to get your troops to the next stage. You can check the daily quests that are available as well as the achievements you have gained.
Features
Full details of your comrades
The ability to buy help
Points scored for all action
Clear knowledge of who the enemy is
A way to build an army and get weapons
Conclusion
It may take a while to get your troops to the peak of fitness and be properly supplied, but once this happens you can show what they are made of. It is easy to follow and enjoyable to play. If there is anything that could be differently, it could be that there would be less intervention from the characters.
---
Add a review
Tell us your experience with
Army Men Strike - Military Strategy Simulator
3.22.2
RELATED PROGRAMS
Our Recommendations
---
---
---
---